How to get a Job at Google.

100% I agree. And no, I don't think that what I did in clinical practice would help my students get a job at Google.

I love at the end when he says that just because you have a degree doesn't mean anything, but what does mean something is that what you can do with the knowledge you have. Google seems to have some great ways to assess these abilities about people. What I see happening at the public school level, is that these abilities are not being assessed therefore the abilities are not being taught. And it seems that there is a lot of confusion about how to assess these abilities at the public school level. If there are tried and true measures to assess people on their abilities to lead, relinquish lead, learn on the fly, step in and problem solve, etc then why are the not being used in schools?

On the flip side, I know that not everyone wants to work at Google. So if Google is looking for certain attributes in people, can the claim be made that all employers are looking for similar attributes in employees? As a science minded person, I would say that there needs to be more research in order to say that if students are prepared to interview and be hired at Google, that they are prepared to be hired anywhere, or even further that they will be successful in any job. I don't think that after reading this article that this is necessarily the case.

Overall, my gut agrees 100% with this claim, but the logical thinker in my says more information is still before I would use this info to change anything.
Powered by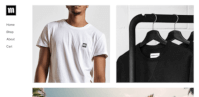 Create your own unique website with customizable templates.