So I realize that my storify is not over a 2 week period, its just a single weekend. I wanted to share about something that had more of a theme, like a day in my life or an event in my life. So I chose a busy birthday weekend where I was juggling the important things in my life. During this program, I feel like every day is just a sequence of crazy events and somehow we keep going from one thing to the next. Weekend days are not any slower for me, especially Saturdays. I hope that my story conveys all the very different roles I play each day and how I have to quickly move from one to the next. One moment I'm a student, one moment I'm an athlete, one moment I'm a housewife, a daughter, a customer, a chef, etc. This happens all day, every day, and I think it can be a burden sometimes-exhausting. But its a really great part about being human that can be very fulfilling. Its not something that can be conveyed over a two week period.

I think that sharing my story is important for me. I mean, its important for all people individually to share your story. Every story is worth sharing, and it gives one a sense of ownership and importance. You give yourself a voice when you share a story. Its a moment where you're saying to everyone, especially yourself, Hey, I'm important enough to listen to. I think story sharing also helps people build rapport; it helps us all relate to one another on some level. Sharing your own story is personal and vulnerable, it lets people in. As a teacher, you obviously need to have discretion, but sharing about yourself can help your students relate to you and feel like they can connect with you. You aren't just a teacher, but you can be a role model and a source of encouragement. Doing so online and in person can be influential on your students and your teaching style. When students can get online and read your story, or read things you have documented online, it helps them connect to you in a way that may be unreachable in person. Think about how we connect with celebrities and athletes; magazines are covered in stories about these people and it helps us feel like we know them. We care about them and the things going in their lives. It gives them an identity that we either like or dislike. As an educator, you're the same to your students. They can make that connect with you, if you document or brand yourself online and in person. A lot of that is what we are learning in this program, especially in this class. In a New Culture of Learning, it emphasizes how important the use of online venues to do this is important for your students. Connecting and be a part of collectives online is important for you and for them. Creating a blog or a story telling venue is something they can all be a part of.
Powered by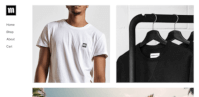 Create your own unique website with customizable templates.