I really like that this theory brings up the fact that the concept of visitor of the internet vs. resident is not just old vs. young, but its more of a individual motivation to be a part of the online community. The person who visits the internet has a goal and purpose for being there, and then they log off and they are done with the internet. The resident is someone who has a part of their identity that stays online even when they log off. They get online and they stay there. The more often they log on, the more relevant their identity online is. If they don't log on and update that online identity, the less it may be a reflection of themselves. They are visible online. Its not just how you use it but how you view it and it's purposes. The visitor doesn't see the internet as a place to "hang out". They perceive their privacy as important and aren't interested in engaging or flaunting with "strangers". Residents see the people they know online as an extension of the relationships they already know. It's not just online presence but the continuum is about how your view the use of the internet and your motivation to use it.




I think that I am somewhere in the middle of this spectrum between being a visitor and resident, maybe I'm on the high middle tier. I think that the creation of this website has helped me become more of a resident. I have really enjoyed creating my website and having it out there on the web. I actually want to know how to make myself more visible for the purpose of connecting with people who have the same interests and passions that I do. I also maintain a few social media sites as a way to stay connected with friends and to engage in relationships with companies and people that I value in my life. I don't like spending a lot of time online, although I spend more time on there more than I want. I prefer to get online, do my thing, and then disconnect. I see the virtual extension of myself and my life online as just that, a virtual extension. It is "real" to me, but I do see that if I loose it, I am still me. You hear sometimes about people getting upset about what people say or do on Facebook and they claim in exasperated tones that "Facebook isn't real life". Well, I tend to differ. Social media and internet presence is real life because it is a close to real time representation of other people interacting. However, my virtual presence is not a definition of who I am. I see it being the other way around, and in that sense I feel in control because I define my virtual presence. I feel that that perspective allows me to feel comfortable and motivated to put myself out there in the interwebs while still maintaining my privacy and identity.
Powered by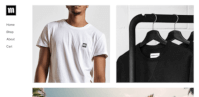 Create your own unique website with customizable templates.