About Me
I grew up in Simi Valley, CA until I was 18 years old. Simi Valley isn't widely known for much, except for maybe the
Ronald Reagan Library
. Other than that, it's a pretty average city. I moved to San Diego to go to college at SDSU (Go Aztecs!), and other than a short hiatus to Vegas, I have lived in San Diego County ever since. I have an 8 year old cat named Alley, and now I have had a husband for the last 2 years, named Ryan. I live in Carlsbad, I play Crossfit at
Carlsbad Crossfit
where I am a new coach, and I attend Cal State San Marcos single subject credential program for teaching. My two passions and focuses at this time in my life are fitness (mostly Crossfit, but also everything that incorporates health and fitness like food, medicines, and other health practices) and teaching. I created this website to help me expand and grow in both these areas.
I wanted to create a health and fitness
blog
to start sharing my ideas with others. The road to fitness and learning about your own health is a long process, and every little bit of information helps. At least I know it has helped me, and is
still
helping me. I am no expert. I am just an average person trying to find out the best way to get healthy and stay that way. I have had some success and fails, and I just want to share that journey with others in hopes that someone else out there has found the help they needed, just like when I know I needed it. Aren't we all on a journey to figure out how to optimize our lives? I hope you enjoy what you find and that you find what you need!
---
A little more background...
I started playing water polo as a freshman in high school, and fell in love. I was always a fish in the water but I found a passion in playing water polo like I had never experienced with anything else before. I immersed myself in training and bonding with team mates and learning anything I could about how to improve. I played all four years of high school; I was on varsity my sophomore year and became team captain in my senior year. I mainly played defensive hole guard and I even goalied a few times. I also swam all four years of high school focusing on the 200 yd freestyle and a few relay teams. Also in high school, I briefly dappled in wrestling and practicing with the high school boys team and a freestyle club team.
When I went to college at SDSU, a friend who played at Grossmont Jr. College invited me to attend a water polo practice with her. The coach there persuaded me to join. I took a few semesters off from SDSU to
play two season
at the Jr. College level. There I learned how to play the hole set position and refined my shooting skills and swim speed. I also spent a semester swimming where I swam the 500 yd freestyle, 200 yd IM, 400 m freestyle relay, and some occasional breast stroke events. My fastest 100 yd freestyle was during a relay and was 59 seconds, a personal record that I was excited to reach before my swimming days were over.
After those few semester at a Jr. College, I returned back to SDSU to obtain my BS in Biology (2007). During that time I continued to stay active with some swimming and mostly running and average gym activity. Without an organized team sport I felt lost at the gym. I started yoga and taking other gym classes. Despite my efforts to stay active, I gained weight and my motivation to stay active decreased. I tried to sign up for a few races here and there. I did two triathalons, two
ragnars
, and a few 5 and 10k's. I stayed on this path for a few years, feeling unfulfilled and never loosing weight. I knew absolutely zilch about eating healthy and my health was inevitably on a gradual downward slope....until I found Crossfit in 2013. Glorious Crossfit. I fell in love with the sport almost immediately and just kept wanting more. I have now been Crossfitting for a little more than a year and I received my Crossfit Level 1 in Novemeber 2014. Crosffit and I are a match made in heaven.
teaching background
It was also in high school that I realized how important school was and how important teaching was. I avoided taking high school chemistry due to teachers with notoriously evil reputations. By the time I took chemistry at Jr. College I fell in love with it. I realized that a good or bad teacher makes all the difference in someone's opinion about the subject. I took the long road to discovering what I loved, but in the end I wanted other people to love it to. So I thought being a teacher, a good teacher, would help influence how people feel about science. Science is amazing and powerful, and I want to share with others what I feel about it, even if it is only a little of what I feel.
When I graduated college I thought I might go right into the teaching program. I started to move into that direction, but I was too anxious to start working and making money rather than procure more debt so I took a job. I started working in retail, moved to the healthcare industry to the biotech industry, back to the healthcare industry. I moved around in jobs never feeling fulfilled. I finally decided to take the leap into the credential program. And now here I am, finally becoming a science teacher. I hope that fulfilling this dream will be a life long pursuit.
Keep in touch!
Powered by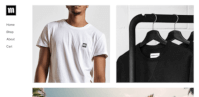 Create your own unique website with customizable templates.